Reading Time:
2
minutes
Creating your first plugin on WordPress is awesome. It is an awesome venue to get your work out there and used by people. And people will find it. My two simple plugins have been downloaded over 1,100 times since pushing the first one in November of 2014.1 Of course with people finding it comes one other thing that's not so awesome. They'll break it too.
WordPress.org is great for publishing plugins. Is is much less great, in my experience, for supporting plugins.
By default you'll get no notifications of any kind that a post has been created in your plugin's support thread. There is an RSS feed for the support thread though. But I'm lazy. I want notifications pushed directly to me.
That's where If This Then That2 comes in. Basically, IFTTT let's you automate connections between different services. Want to have your Instagram photos automatically posted as native Twitter photos? There's a recipe for that. Want to post any article you save to Pocket to Twitter. Go ahead. Tired of your wife cranking up the heat? You'll need a Nest, but you can do that too.
I'm using IFTTT to have an email sent to my Gmail account and create a new task in my inbox on Todoist. First, thing you'll want to grab is your plugin's support RSS feed. You can find it under the Support tab on your plugin's page on WordPress.org. Generally it's going to be something like https://wordpress.org/support/rss/plugin/plugin-name.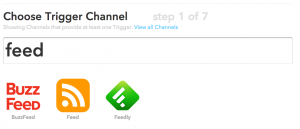 Now back on IFTTT you're going to want to sign up if you haven't already and click the big blue Create a Recipe button. Click the big blue this and you'll be taken to search bar to select your trigger channel. In this case we want to search "feed" to get the RSS Feed channel. Make sure to select the item named just Feed. Not Buzz Feed. Your Facebook friends will handle updating you on Buzz Feed.
Next, you'll want to choose New feed item as your trigger, and enter the support forum RSS feed URL on the next screen. Then select the big blue that. And to set up the Gmail notification you'll want to search for the Gmail channel. Enter the email you want to receive the updates at in the To address. The default settings are good enough, but you can feel play around with the Subject and Body content if you want. When you're done hit Create Action.
Finally, on the last page hit Create Recipe and you're done. Now whenever someone posts a new topic in your plugin's support thread you'll get an email. Go forth and set up some more channels and knock your support the hell out of your plugin.