Reading Time:
3
minutes
We have reached the last part of our journey through a basic WordPress install. There is a lot to take in. That's why we need to take a look at some tips, tricks, and the tools screen we skipped over.
Tools
First, let's take a brief look at the Tools screen.
When you first land on the Tools Screen you drop into the Available Tools Screen. As of 4.7 that will give you two items. Press This and the Categories and Tags Converter. The Categories and Tags Converter let's you do what it sounds like, convert categories to tags and tags to categories.
Press This is a little more interesting. Press This is a bookmarklet you can add to your browser that lets you easily share a page you're viewing on your blog with a brief preview.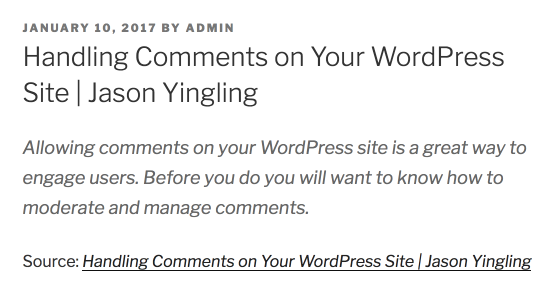 Import Tools
The Import Tools screen provides you with several options for importing content from a different site. There are tools for importing from Blogger, Tumblr, RSS, or another WordPress site.
Export Tools
The Export Tools allows you to export your WordPress site content into an XML file that can be used to import into another WordPress site.
There is one tricky thing about WordPress's export tool. You won't get your posts featured images unless you use the All Content option. Just exporting Posts won't give you their featured images as featured images are stored as Media Posts.
Tips
Screen Options
One thing you may come across frequently is a guide telling you to edit a field you may not see on your editor. This can be extremely frustrating. Before hulking out and snapping your computer in two and throwing it into the ocean, check the Screen Options tab at the top right corner of the screen and see if there is an unchecked box hiding what you're looking for. They vary from screen to screen.
Bulk Edit
Need to change the author on 100 posts? Rather than individually open every post, change the author, and click update, you can select multiple posts at once and edit them all. Some of the things you can edit through the Bulk Edit tool are categories, tags, author, comments, status, format, pings, and sticky or not sticky.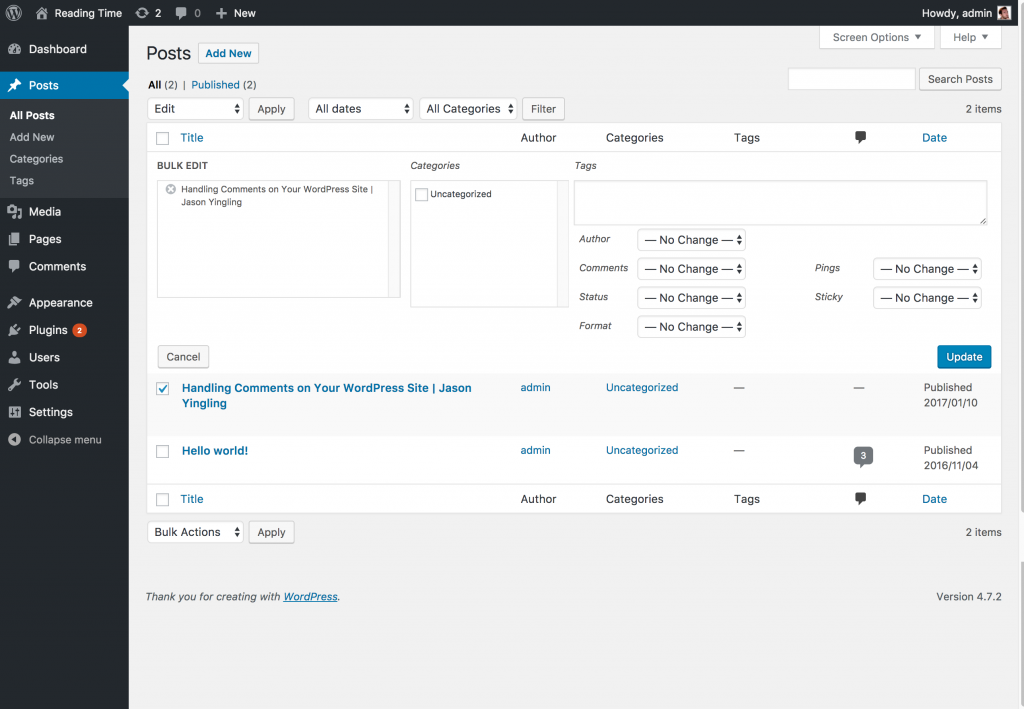 Finding all posts for a specific category or tag
When you first spin up a WordPress site your posts will have default to being categorized under Uncategorized. It's an unbecoming look for your posts. Let's say you never got around to adding categories because your old theme didn't display them1. But now you've upgraded and don't want "Uncategorized" showing on all your posts.
In order to get a list of all the posts under Uncategorized you'll want to navigate to Posts > Categories. Then in the table of Category terms you'll want to click the number under count. Boom, all your posts categorized as Uncategorized. Click the checkbox next to Title and it'll select all on the current page view. Then from the Bulk Edit dropdown hit Edit and you'll be able to select a new Category.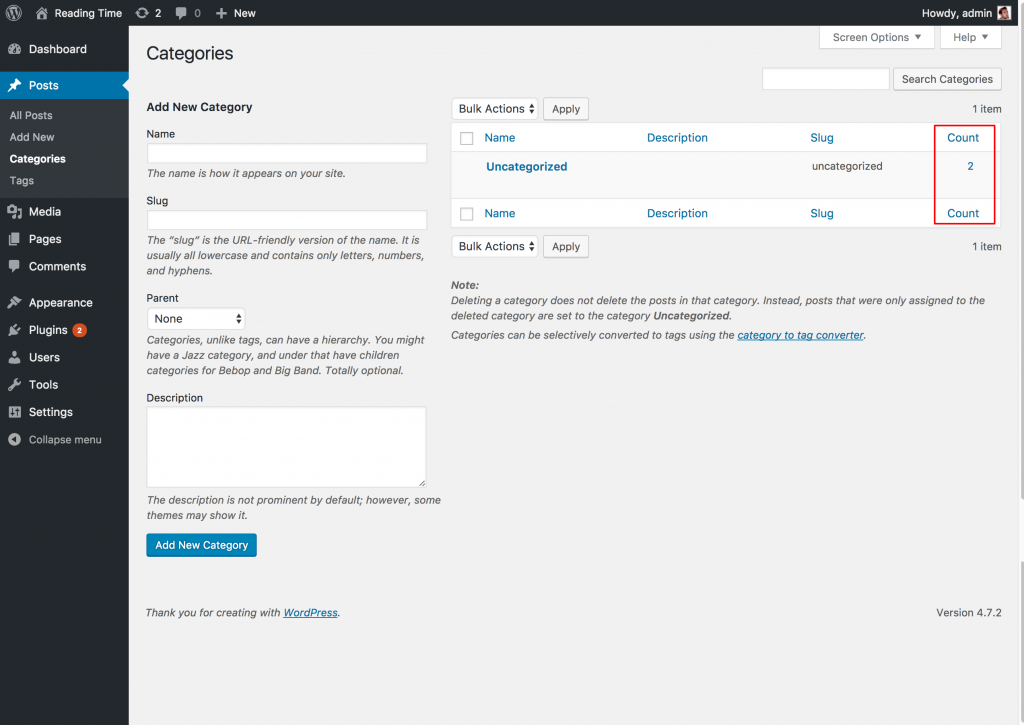 Those are just a few of the tricks and tips available in a fresh WordPress install.
That's it. Thanks for following along with this introduction to WordPress. Hopefully you've got a better understanding of what WordPress offers you out of the box. If you found it interesting or helpful please feel free to leave a comment and subscribe to my blog for more content.