Reading Time:
3
minutes
By now you've seen that little white dongle many business and service owners use to accept credit card payments.
Those little white dongles from Square have had plenty of competition pop up, but Square remains, in my experience, the most commonly used for small businesses.
And Wall Street seems to agree as Square has seen their stock price rise from $16 to $46 as of February 2018.
Enter Square for WooCommerce
Square and WooCommerce have worked together since 2016, but earlier this year WooCommerce dropped the price of their Square Payment Gateway extension from $79 per year to free and made it available on the WordPress.org repository.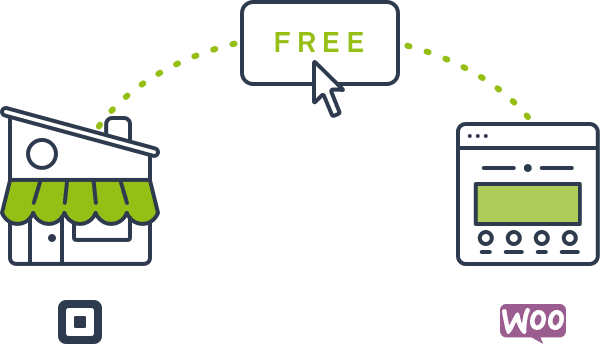 This makes it easier, and free-er, than ever to open an omnichannel store allowing you to easily sell physical and digital products while keeping inventories in sync.
Syncing Inventories between Square and WooCommerce
Square and WooCommerce both have their own inventory systems. Keeping quantities in sync used to be a manual process. But Square for WooCommerce allows syncing of product inventories.
It's not instant because at this point Square doesn't have a system in place for pushing to WooCommerce. That's solved by WooCommerce doing an hourly ping to your Square inventory to sync inventories up.
Accepting Payments through the Square Gateway
Another advantage of the Square integration comes with the ability to accept payments through Square. It has the same starting price points as PayPal and Stripe at 2.9% + $.30.
That being said if you still want to accept your payments through PayPal or Stripe you can simply take advantage of the inventory sync for your physical and digital store.
Limitations
There are a few limitations to the Square to WooCommerce integration. And while not dealbreakers it's helpful to know going in.
Managing Products
Aside from the inventory sync not being instant, it's not currently possible to pick and choose products to sync from a specific Square Business Location.
This can be taken care of by how Square handles Business Locations. You can create a Business Location for your digital store and sync that with WooCommerce. Square can then be setup to track global inventories across all your business locations keeping things nice and tidy.
Adding New Products
Another drawback is the automatic sync can't add new products or update information that was edited within Square. To do that you'll have to run a manual sync to have WooCommerce pull products from Square. Though this can be done with a few clicks from your WordPress dashboard.
Alternatively you can make sure to manage all your products in WooCommerce as it auto syncs to Square whenever a product is added.
Testing
There isn't currently a way to run a test payment. That means to make sure everything is running correctly you'll need to run an actual purchase of more than $1.00. Not a huge deal, but not as easy as running a test purchase on Stripe.
Wrapping Up
If business owners were looking for a cost effective way to manage inventories between a physical and digital store Square for WooCommerce seems to be the way to go.
This could be a big win for Square going forward. If it's able to become the go-to brick-and-mortar to digital solution for the most popular ecommerce solution on WordPress that opens them up to a vast market of users. At last check I think WordPress was used on about 29% of the web. And WooCommerce has 3+ million active installs.
I've already worked on a couple projects that have required the integration and I expect I'll be seeing more in the near future. Especially now that I can offer it to client's as a no-cost option.
---
For a more detailed guide check out FitSmallBusiness's guide on Using Square and WooCommerce to Run Your Business. They cover everything from setting up, good use cases for integrating Square, and costs associated with running Square and WooCommerce.