Reading Time:
4
minutes
A few months back we started working remotely full-time at Red8 Interactive. It's been a good experience for me as I get to be home with my wife and 9-month old. Which means plenty of playtime and read throughs of The Book With No Picture. So many read throughs…
Of course every now and then it's good to get out of the house and work remotely. My go-tos are a coffee shop to do some face-to-face with our other developers and a co-working space that let's me in to host a monthly WordPress meetup. Thanks again OPO Startups.
Aside from my 13 inch MacBook Pro here are a few additional tools I throw in my backpack when I'm headed out to work remotely.
The Roost Stand
The Roost Stand is a game changer when it comes to working remotely and maintaining good posture. Sure you might look a little weird busting out this contraption at the coffee shop, but your back will thank you for it.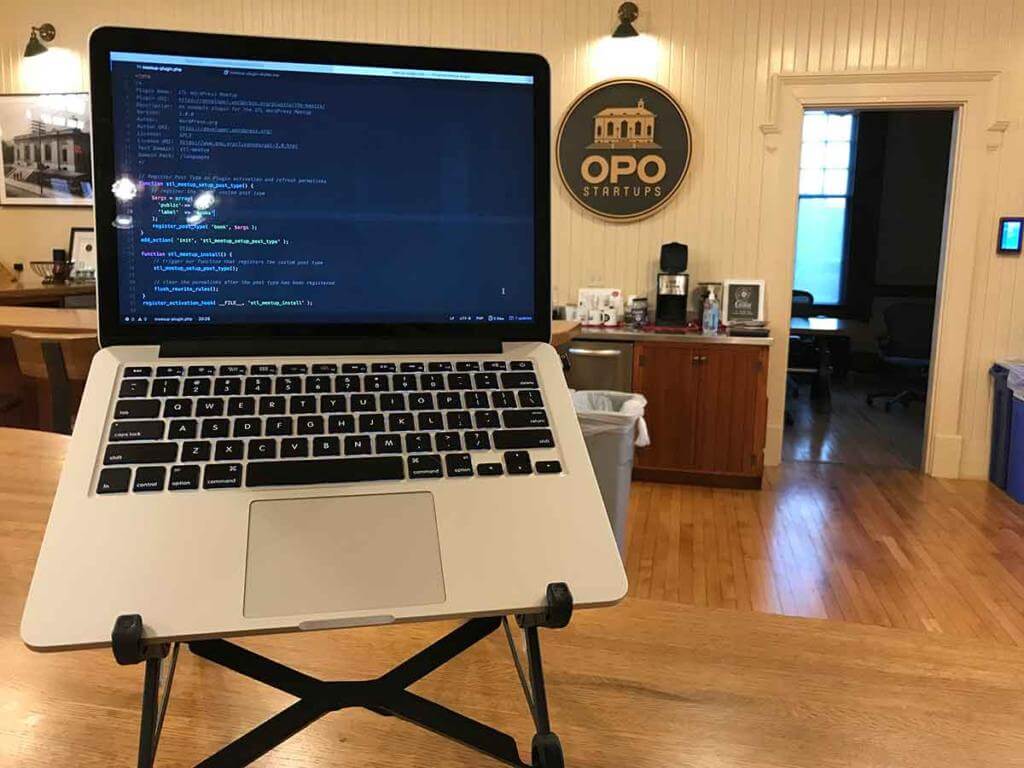 I'm a relatively tall guy coming in right around 6'0''1. Pair that with some truly awful vision2 and I hunch anytime I'm working on my laptop. The Roost Stand let's me prop my laptop up to eye level and relieve some of that pain.
Bluetooth Keyboard, Mouse, and Case
Of course using a laptop on a stand isn't the ideal experience with a touchpad. You're going to want a wireless mouse and keyboard to go along with it.
Anker Ultra Compact Bluetooth Keyboard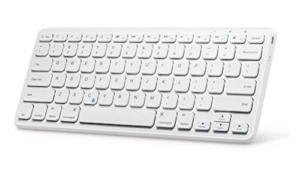 Despite the overly descriptive name this Anker keyboard gets the job done. It's size is comparable to an Apple bluetooth keyboard with slightly higher buttons.
I get the occasional rare bit of lag when firing up from standby, but otherwise this keyboard has performed exceptionally. Like the, again, very descriptive title says it's small and easy to pack in a bag and go.
In my experience it's had stellar battery life. I was using it daily at one point, and honestly I can't even remember the last time I charged this thing. The last thing you want is your bluetooth keyboard to be out of juice once you get all setup.
Logitech Wireless Marathon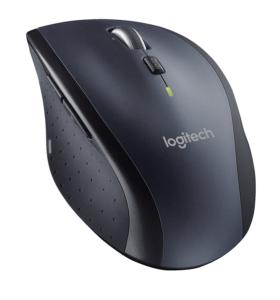 According to Amazon I purchased the Logitech M705 Wireless Marathon mouse on April 20, 2014. I have yet to change the battery. And I've been using it as my everyday mouse for the last 9 months3.
This small but mighty mouse features plenty of programmable buttons. Which is an absolute must for me when I'm developing on the go. My one gripe has been with the mouse wheel speed. But overall the battery and function keys make up for it.
Roost Stand Case
Now that we have a mouse, keyboard, and stand we need to easily transport them. Well, the people behind the Roost Stand also made a nifty little carrying case that just so happens to fit the Anker keyboard perfectly. Almost as if they suggested it!4
Once you've got your Roost Stand, keyboard, and mouse all packed up this case slides right into a bag and you're ready to go.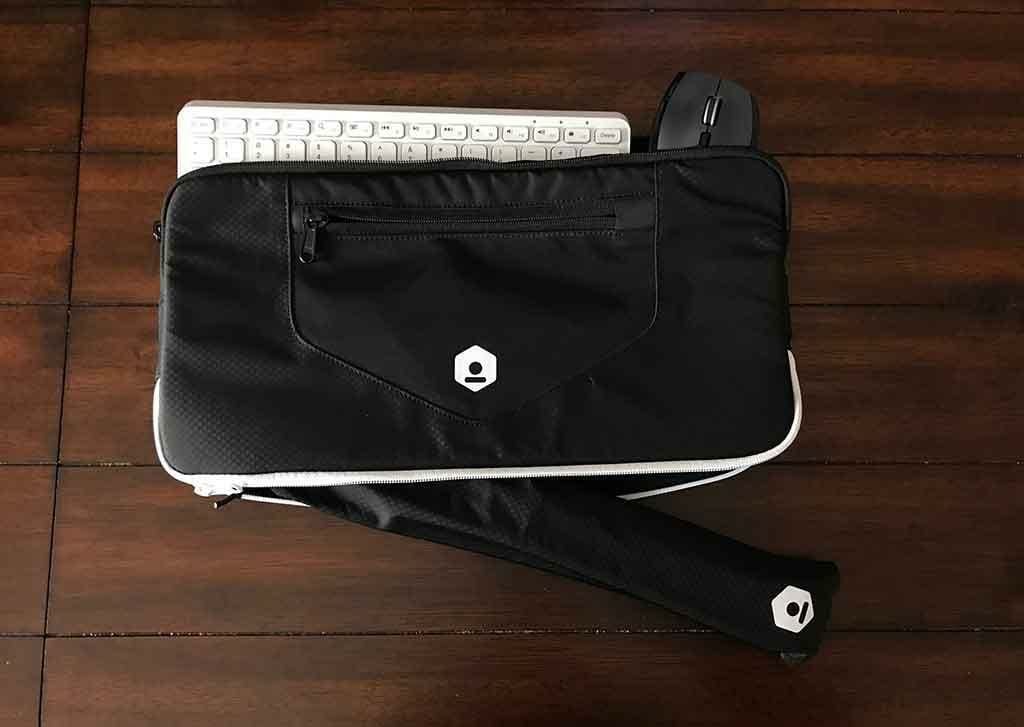 Note: The RKM Carrying Case seems to be out of stock everywhere. If anyone has a good alternative let me know in the comments.
Mountie + Duet + iPad = Dual Screens on the Go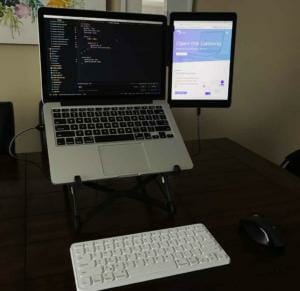 One of the tradeoffs of going remote is screen space. I choose to work with a 13" inch MacBook Pro because it's smaller and easier to carry. But boy is it annoying to code and switch back and forth to a browser.
Carrying around a 24" inch monitor is just not going to happen though. An iPad on the other hand is lightweight. And thanks to the Duet app made by ex-Apple Engineers you can turn your iPad into a portable second display.
Throw in the Mountie and you can clip your iPad to the side of your monitor and become a true remote working powerhouse. Though you may get some questionable looks from the barista as they realize you're posting up for some time.
Side Winder Charger Management
Apple does some great design work. That makes the charger even more frustrating to deal with. You ever try rolling one of these things up and storing it in a bag? As soon as you let the cables go they explode in every direction. Then when you actually need to use it you've got a tangle of wires running across the table. Not ideal.
The people over at Fuse are trying to solve this with their Side Winder charger cable manager dealy. It's shipping out to Kickstarter backers in March, but they raised over $290k on a $20k goal. I'll report back once mine comes in.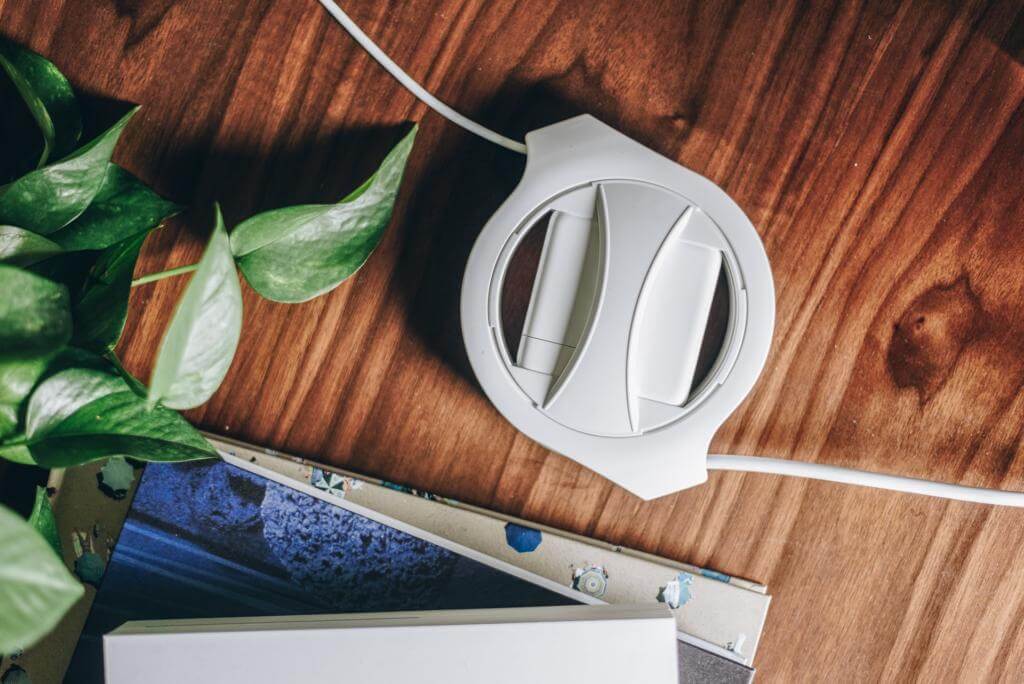 Working Remotely Like a Pro
With a setup like this you can post up in your favorite remote space for hours. Just if you're doing it at the coffee shop remember to make some room for the other customers or order another coffee.
Those are the tools I use to make the most out of working remotely. What tools do you use? Let me know in the comments!