Reading Time:
4
minutes
With the holiday season upon us you may be looking to generate a little extra coin to get someone the raddest gift ever. It's ok if that someone is you. Or maybe you're reading this after the holidays and you need to make up for the turkey induced Black Friday shopping you did on Amazon late into the night.
Either way it's never been easier to get started with an online business. All you need is an internet connection, a WordPress site, and WooCommerce.
What you'll need 📝
There are a few things you're going to need to get your online store setup. If you've already got a WordPress site congratulations you get to move on.
If not you'll need to get some hosting. I currently use SiteGround for my sites and WP Engine for client sites. For more on hosting checkout my resources page.
You'll also, of course, need WordPress. Most hosting providers will have a one-click install solution. Or if you use a managed WordPress host like WP Engine it will be all setup for you.
But we don't just want a WordPress site we want a WordPress site with WooCommerce so we can sell stuff.
That means you'll need a sweet WordPress theme with WooCommerce integration built-in. May I suggest Aurora, built just for this occasion.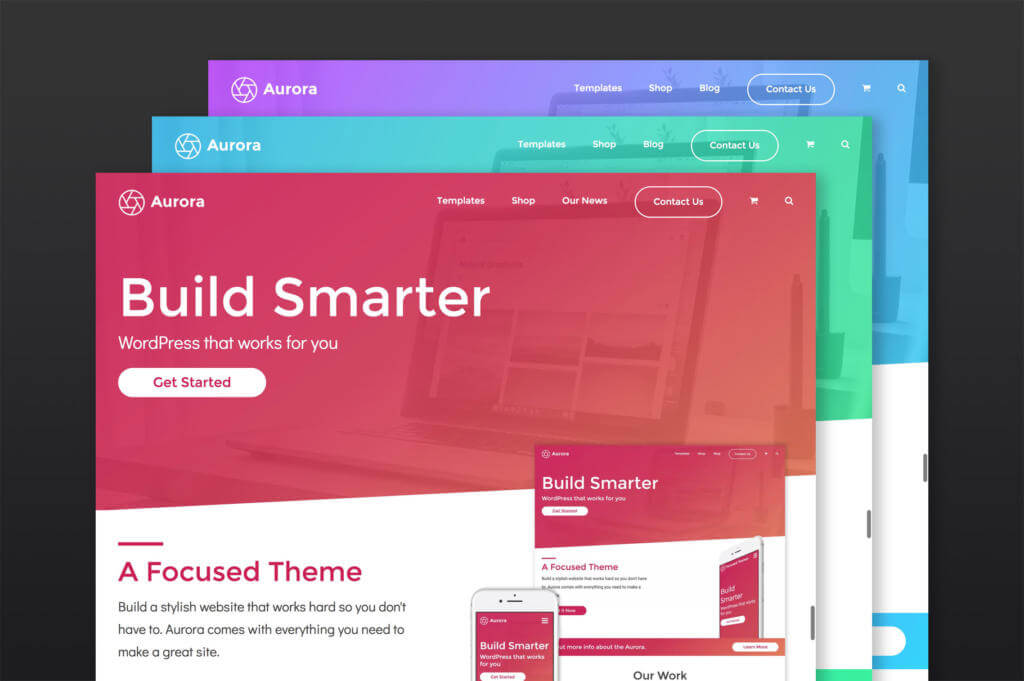 And the last thing you need, and the focus of this article, is an idea.
Ideas 💡
These are just a few examples of what you can do with WooCommerce. You're only limited by your imagination as there are extensions for (almost) everything.
Sell a service 🙌
People need help with things. And you can provide that help.
If you work in a digital service industry it's easier than ever to sell your services online through WooCommerce.
SEO expert? Sell a search engine optimization review.
Developer? Sell a site speed optimization package.
Designer? Sell a custom logo design.
You'll just need to set it up as a digital product and follow up with the customer through email. Then once you get it down pat you can scale by automating the service!
Start a shirt store 👕
Everyone loves a good novelty shirt. With WooCommerce and Printful it's extremely easy to start your own online store.
All you have to do is setup the site and design your goods. Then Printful takes over for the production and shipping of your products. You charge your customer whatever you want and Printful charges you for the production.
You don't have to worry about managing inventory as everything is print on demand.
Become an affiliate 🧐
You'll need to build up some solid traffic but affiliate sales is a good way to make some extra cash.
Essentially you direct people to other's products and get a small cut of the sale. As you establish your expertise in your niche people will flock to your suggestions.
A lot of products will have some setup for affiliates. You just need to find where to sign up.
Amazon has an affiliate program as well but you'll need a site site with content in place to get accepted so you can start selling.
Quick tips 🏃‍♀️
There are a few things that can be intimidating when starting an ecommerce store. Your payment gateway, shipping, and taxes.
Setting up a payment gateway 💵
If you're selling online you need some way to take payments. Everyone knows PayPal but my go-to is Stripe.
It doesn't have the consumer recognition that PayPal does but it's much easier (and free-er) to get payments implemented into your site so you don't send customers off to PayPal to complete your order.
Both work and both charge you the same fee per transaction of 30 cents plus 2.9% of the total.
PayPal and Stripe can be setup out of the box in WooCommerce but to keep the PayPal user flow completely in your site you need a premium extension.
Both are perfect choices and there are even more options if you're not a fan of either.
Setting up taxes 💲
https://giphy.com/gifs/principal-skinner-pay-me-up-Zl8rba0dlhlqU
Taxes can be confusing. Especially in the digital space. Some states you don't have to charge for digital goods or services but will for physical goods.
I highly recommend you talk with an accountant to figure out what you need to do about collecting taxes for your store. No one wants to find out they didn't collect the proper taxes when Uncle Sam comes knocking.
If you're fully against talking to bean counters TaxJar has some good beginner guides on taxes by state.
Once you figure out what your tax needs are you can get things setup through the WooCommerce Services extension. This simplifies tax setup for you based on your store location (which is set during the WooCommerce setup wizard upon activating the plugin).
If you use Printful you'll also want to collect taxes for the locations they sell. They have options within their plugin to easily set these taxes up but it doesn't integrate with WooCommerce Services at this point.
What's worked for me is to setup the WooCommerce Services extension and get my state tax rates. Then setup Printful to get their tax rates. And manually combine the two in the taxes table.
Setting up shipping 📦
If you're selling digital goods you don't need to worry about shipping. But if you sell physical goods you'll need to figure out how you're going to charge for and ship items.
WooCommerce Services offers live shipping rates for USPS and discounted printing of labels.
If you want to use UPS or FedEx you can find shipping for those as well.
If you end up using Printful to create and ship your products they have their own shipping rates that can be included on your site. Just pick which options you want to offer and Printful takes care of the rest.
Wrapping up 🎁
With a WordPress site and WooCommerce you can start selling digital or physical goods in no time. And services like Printful let you get started selling physical goods with no overhead costs.
You're only limited to what you can dream up.
If you have any questions or need help getting started with WooCommerce feel free to reach out.
And if you need a snazzy WooCommerce ready theme check out my latest, Aurora.